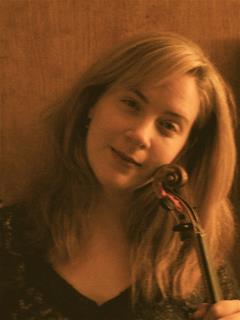 Elizabeth Hedman

(violin) started playing at the age of six, after plaguing her brother to "please" let her try his. (Which he would not do). Her mom felt sorry for her and started a paper route just so she could learn to play! Elizabeth's first violin was given to her by her piano teacher, whose father had been a violinmaker. So began her journey...

nSince that time, Miss Hedman has soloed with orchestras: including, The National Repertory Orchestra, The Cleveland Institute of Music Orchestra, The Northwest Chamber Orchestra, and The Seattle Youth Symphony, among others. She has played solo and chamber music recitals across the country and in Vancouver, B.C. Other momentous events have included winning the 1994 MTNA National Collegiate Competition, participating in the Cleveland Orchestra's Pre-Concert Performance and Lecture Series, playing on live radio programs in Los Angeles, Cleveland, and Seattle , as well as being featured in The Seattle Times in her early teens. Her education includes Bachelor's and Master's Degrees from the Cleveland Institute of Music, where she won both the Concerto Competition and the Valedictory Award and was teaching assistant to Mr. Welerstein. Her principal violin teachers include Donald Weilerstein, Margaret Pressley, and Naoko Tanaka; and for piano, Beth Hall.

Currently, Elizabeth resides in Los Angeles, and enjoys a diverse musical career that only a city such as this could offer. She is a member of the Santa Barbara Chamber Orchestra, Pasadena Symphony and Santa Barbara Symphony Orchestra, and plays with The Pasadena Pops and Los Angeles Master Chorale. She has also played with Mladi and looks forward to collaborating with Ensemble Green. Elizabeth feels privileged to make her livelihood playing orchestral and chamber music as well as enjoying a career recording for albums, television, and motion pictures.